As communities come together to share their relationships with the ocean, manifold conceptions and values of the sea are being translated into artistic media ranging from film to murals to illustrated books.
Across South Africa projects are revealing multiple connections with the sea – physical, emotional and transcendental. A set of compelling digital stories has been produced by the project The Sea and Tsitsikamma (led by Dr Joana Bezerra, Rhodes University). These recordings not only express personal narratives regarding bonds with the ocean, but also convey the injurious communal consequences of forced displacement from customary coastal land. Forthcoming cultural mapping and youth workshops will create forums for imparting intergenerational knowledge for posterity.
The Keiskamma Art Project in Hamburg has held a number of workshop during which collaborators have shared time-honoured memories, prayers and rituals that express ancestral connections to the sea. Throughout the project, Our Sacred Ocean, discussion has also focused on strategies to protect and preserve these revered environments that are fundamental to individual and collective identity, wellbeing and prosperity. Preparatory sketches give an insight into the monumental tapestry that is soon to be embroidered.
Fishers' Tales, a joint project led by the South Durban Community Environmental Alliance and the Urban Futures Centre at the Durban University of Technology, has collected a number of stories shared by marginalised fisherfolk from the coastal province of KwaZulu-Natal. These stories, currently being translated and transcribed into English and isiZulu, advocate for the cessation of racial injustices and bureaucratic fishing restrictions that impeded sustainable livelihoods.  A recent workshop that focused on the role of art as a form of activism brought together young artists who will produce visual content to accompany each story.
In Ghana, the documentary film project Cocooned in Harmony (led by Dr Eric Otchere, University of Cape Coast) has captured extensive footage of the songs of fishing crews in Keta, Agorko, Korle, Dixcove and Teshie. These mesmerising songs create momentum among crews as they undertake the physically strenuous task of hauling heavy fishing nets from the sea. In collaboration with each community, the often poetic lyrics of the songs are currently being explored to reveal culturally embedded beliefs, knowledge, power structures and worldviews. As part of the project's work, the film team and fisherfolk recently came together in the Central Region for the International Model Diplomat for Development Ghana (IMDDG) clean-up of Winneba beach.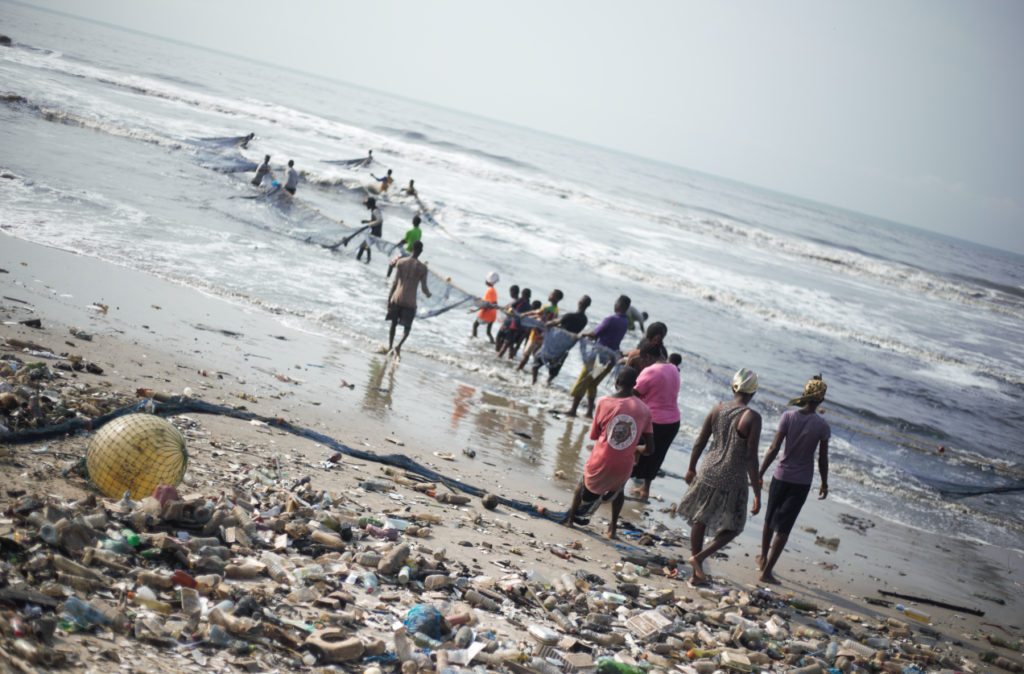 The islands of the western South Pacific have also been a hive of activity. In Vanuatu, the Erromango Cultural Association's project Netai en Namou Toc (Stories of Mother Ocean) has documented an extensive array of customary stories and knowledge, in both urban and rural environments, relating to wind and tidal patterns, sea caves, spirits of the sun and sky, indigenous fishing practices and centuries old rock art. The project has been widely publicised via newspaper, radio and public presentations to garner significant support from the chiefs, government officials and international diplomats.
Workshops bringing together women and youth have been a feature of the project Our Ocean Our Identity, led by artists Alvaro Kiki Kuautonga in Vanuatu, Lloyd Newton in Solomon Islands and Pax Jakupa in Papua New Guinea. Alongside customary knowledge of the sea, discussion has focused on topics including ocean protection and preservation, indigenous resource management, ritual practices and ancestral rites. The project has been publicised in local newspapers and a Facebook page provides regular updates. Art training workshops are soon to commence, as is the design of co-produced murals.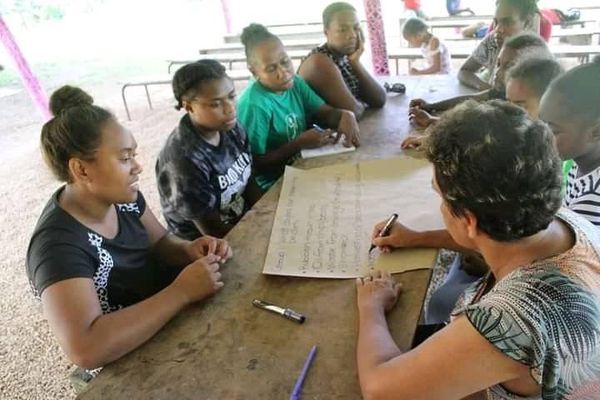 To keep up to date with each of the DEEP Fund projects follow One Ocean Hub on Twitter, Facebook and Instagram.
Dr Lisa McDonald is a Post-Doctoral Research Associate with One Ocean Hub, based at the School of Simulation and Visualisation, Glasgow School of Art. Her research explores the interrelatedness of art, culture, heritage and the ocean, with particular focus on the South Pacific.